In this article we will see the process of disassembly of the Asus S56C laptop step by step in order to repair or clean it.
Tools used in this video:
my disassembly tool: http://bit.ly/35pQoW9
my electric screwdriver: https://amzn.to/3aiDx9B
To start, we will remove the battery by pushing the following buttons:
Put the button to the right and let the red symbol appear
Hold the other button on the left
Push the battery out of position
Next, we will remove the two screws from the rear cover to access the hard drive and memory strips:
Remove the screw 1
Remove the screw 2
Move the cover down to remove it
Once the rear cover is removed, you will see the following: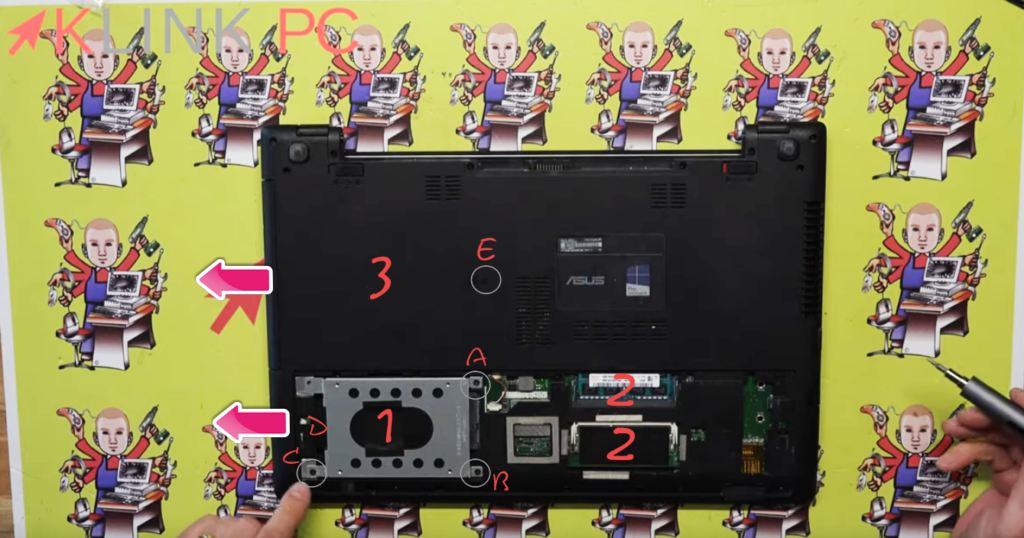 Hard Drive Location
Location of memory modules (an empty location to possibly increase RAM)
CD Drive Location
A+B+C: the three screws to be removed to pull out the hard drive with the tab (D) outwards, on the left
E: there is a screw hidden under the buffer that holds the CD drive
Once the screw is removed, pull the CD drive to the left to disconnect it
Once these elements are removed, all screws on the back plastic part can be undone:
Speakers to be disconnected at the connector
All screws to be removed are circled in grey
Once all these screws are removed, we put the PC on the slice to spread out the plastic parts using my buying tool here: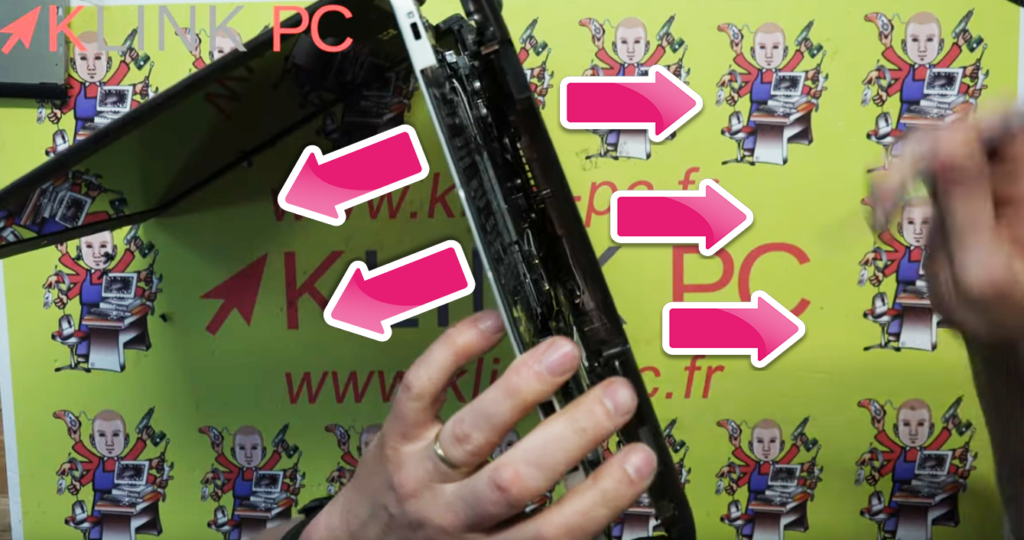 At this point, we arrive on the motherboard and we discover the following elements: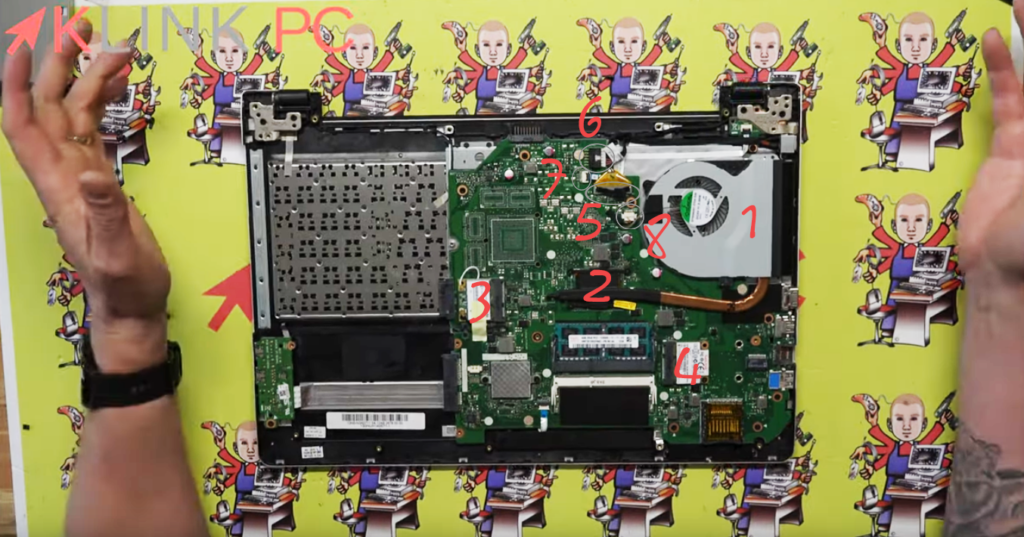 The cooling system
The processor
The Wifi card
The Sandisk memory module
The LCD screen connector to disconnect
The power connector to disconnect
The PC power button cover to disconnect
The fan connector to be disconnected
Once these elements are disconnected, we will be able to unscrew them to remove them from the motherboard:
Now, just remove the screws marked with a white arrow that hold the motherboard:
Disconnection of the ribbon cable
Disconnecting another ribbon cable that matches the USB ports
All other grey circles match the screws to be removed to remove the motherboard
Be careful however when removing the motherboard, there is the ribbon cable of the keyboard behind so do not pull: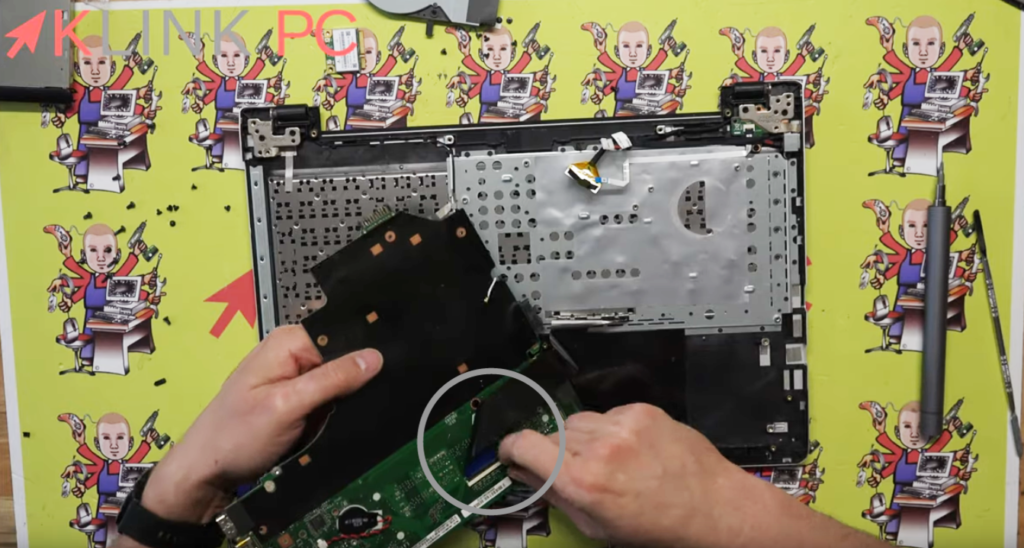 As often at Asus, the keyboard will be difficult to change because it will be necessary to break the plastic pins or otherwise change the whole lower part of the PC: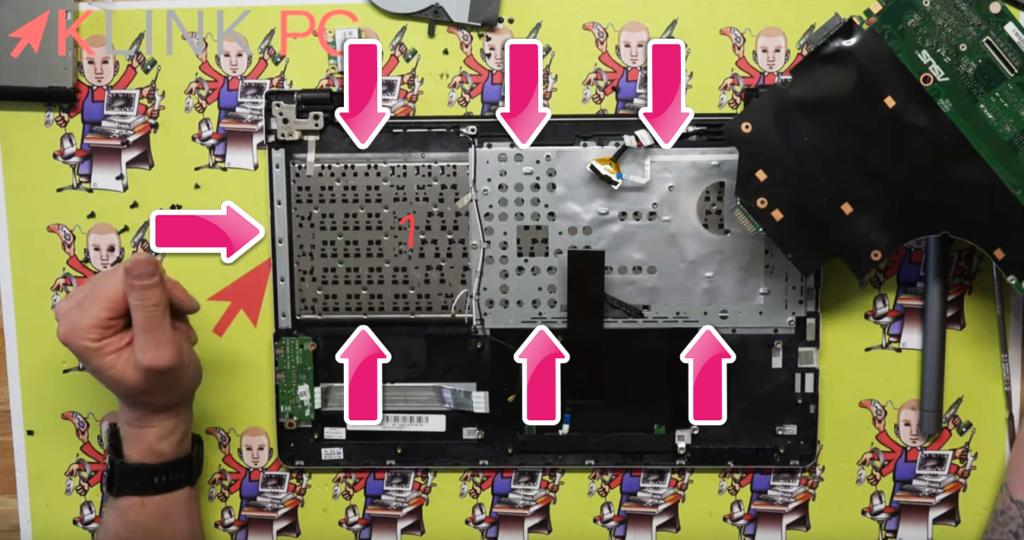 Finally, we find ourselves on the unbundled motherboard and here are the latest connectors for information: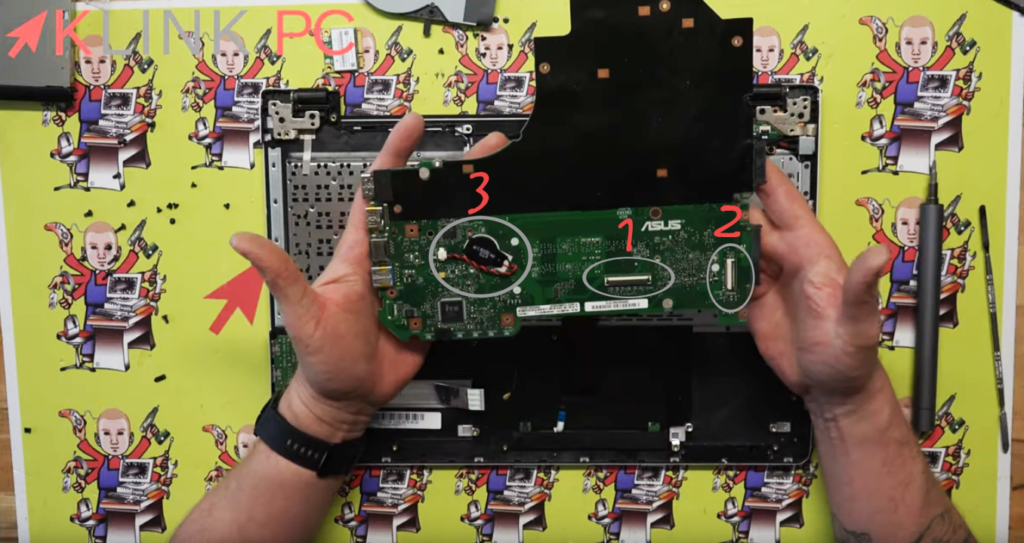 The connector of the keyboard
The connector of the USB ports
The BIOS Battery
For reassembly, it will be necessary to proceed in the opposite direction.
Thank you for reading the entire article and invite you to leave a comment!
See you soon ????